What do I need to know about starting a compost?
Hey guys, so the first step in creating a successful garden is having fertile soil. Here a few tips and some of the basics that I've learned from Composting Guru, which is essential if you don't want to buy dirt..
Step 1 – Designate a good area
Keep in mind that we're dealing with decomposing organic material, folks, so the structure doesn't need to be fancy. You just need some sort of way to hold all of the ingredients together so the beneficial bacteria that break down the plant matter can heat up and work effectively.
Step 2 – Create the Compost Bin
Compost bins are of two types, stationary and rotating. Both types must have their contents turned periodically to provide oxygen and combine the decaying materials. Stationary bins can be as simple as well-ventilated cage made from wire fence sections or wooden crates assembled from a kit. A well-designed bin will retain heat and moisture, allowing for quicker results. Then there's compost tumblers, easy to turn bins that speed up the process — compost in weeks, not months or years — by frequent oxygen infusions and heat retention. Select one based on how much plant matter (grass, leaves, weeds, stalks and stems from last year's garden) you have at your disposal, how large your yard is, and how quickly you need to use the finished product.
When using the stationary bin method, locate the pile in a sunny location so that it has as much heat as possible. If it's in the shade all day, decomposition will still happen, but it will be much slower, especially when freezing temps arrive in the fall. Compost tumblers can also take heat advantage of being placed in direct sunlight.
Step 3 – Get the ingredient mix right
A low-maintenance pile has a combination of brown and green plant matter, plus some moisture to keep the good bacteria humming. Shredded newspaper, wood chips and dry leaves are ideal for the brown elements; kitchen waste and grass clippings are perfect for the green add-ins.
If you're using a simple container, it's best to start heaping the ingredients right on the ground, starting with chunky material like small branches or woody stems on the bottom for good airflow. Every time you add green material, add some brown as well to keep a good moisture balance and create air pockets.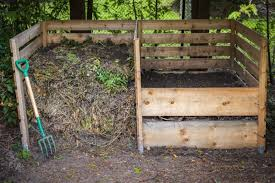 Fold in a couple shovelfuls of garden soil rich in organic matter and let the natural process begin. Remember a few simple chores. Taking care of a compost pile is extremely basic, but a wee bit of care makes a huge difference. Add material regularly to give the happy bacteria some fresh food to consume and enough insulation to keep the process warm.
Turn the pile with a pitchfork or compost aerator every week or two to make sure that all of the materials are blended in and working together. After you've mixed things up, grab a handful to see if it's slightly damp. Too little moisture will slow the decomposition process and too much will leave you with a slimy mess.
Avoid Common Mistakes
It's hard to mess up compost, but we're happy to offer a little direction so you get off to the best start. Please drop a comment with your best practices below!
Don't start too small. The breakdown process needs a critical mass in order to do its job. However, certain bins work well for small amounts of material, so choose a product for your specific needs.
Keep things moist. It's easy to walk away and forget that there's an active process going on, so check the pile regularly, especially during hot, dry weather, manage the moisture.
Don't depend on one material. A combination of different textures and nutrients created by the disintegration of many different plants will give your plants a gourmet diet that helps create disease and pest resistance. Think about it — a huge clump of grass clippings just sticks together in a huge mat that hangs around for years. Add some leaves, stir, and natural forces like water, air and heat go to work quickly!
Don't get overwhelmed. This isn't rocket science, so jump in and try, even if you don't have a clue. You'll soon see what works and what doesn't.
Note: An important note I got from Martha Stewart
Compost is the result of organic matter (plant parts and food scraps) decomposing with the aid of water, oxygen, invertebrate organisms (worms, slugs, sow bugs), and beneficial microorganisms (fungi and bacteria). Crumbly, dark brown finished compost is not soil, though it may resemble it; nor is it fertilizer. It is a soil amendment that can be incorporated into garden soil to help it retain moisture and nutrients. It improves the texture of problem soils and encourages the growth of microorganisms that maintain plant and soil health. Perhaps best of all, it's a free and easy way to dispose of organic waste, which decreases trash pickups and landfill usage.